Lunch & Loom is an innovative way for the business community to become involved with Passing Hats during their lunch hour. It is a great way for employees to connect and build team spirit, connect, learn a new skill and participate in the wonderful community outreach program.
A representative from Passing Hats will come to your place of business and bring looms for each employee to create a knit hat on that will be given to a cancer patient. Each participant is asked to donate 2 skeins of yarn and the company provides lunch for the Employees!
Take a look at the business and Churches who have participated in this wonderful program:
A huge thank you to Chick-fil-A Larkridge for allowing us to participate in a looming session at their location. We look forward to continuing our sessions.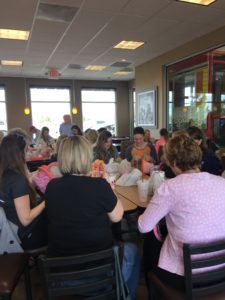 Denver North Stake Relief Society from The Church of Jesus Christ of Latter-day Saints
We had 78 individuals attend with11 hats completed and 120 skeins of yarn donated.
Church of Jesus Christ of Latter Day Saints Arvada Co.
We had about 30 participants join us with 14 hats being completed and 54 skeins of yarn donated.
Church of Jesus Christ of Latter Day Saints- Broomfield Co.
There were over 100 participants with 29 hats donated plus 63 skeins of yarn. What a fun morning.
Elevations Credit Union Boulder Co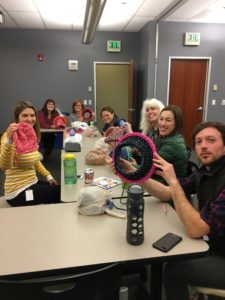 Level 3 Communications
We did a video conference with: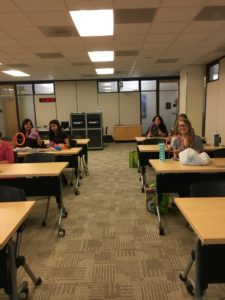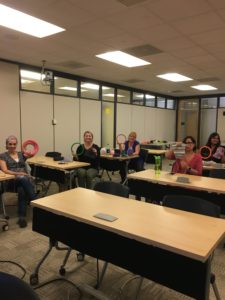 Broomfield, CO
Littleton, CO
Albany, NY
O'Fallon, MO
Atlanta (Norcross), GA
Tulsa, OK
Irvine, CA
Indianapolis In.
Amazing how we can be in so many places at once. The hats will end up staying locally in each of the different areas.  A total of 176 hats were made.
Asher Media learning to lunch and loom
Elemetal Vault

Elemetal Vault decides to continue lunch and loom sessions and  First hats  are completed & they  learns to make flowers.
 Texas A&M University Commerce Tx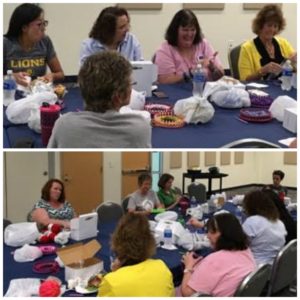 Reach Local