Passing Hats is starting its 6th year. Wow how time flies. I never imagined that we would grow this large supplying hats to 60 locations mostly in Texas and beyond. This past year we had a goal of making and distributing 13,000 hats. We were all surprised at our total number for 2016 when we produced over 16,000 hats. After the number was tallied I was asked how many for 2017? I decided to ask all of you on Facebook?  When we started this organization I wanted it to be fun and uplifting. I never wanted to make demands on anyone especially because we are totally voluntary. The average responses came out to 20,000 hats.  We are off to a great start with a little over 3,500 made so far this year.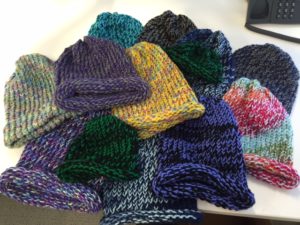 For those of you who don't know I relocated to Colorado. My first few days in the house were exhausting trying to get used to the altitude while unpacking.  A number of neighbors stopped by to welcome me to the neighborhood. What a great welcoming feeling. Of course while chatting with them I was invited to a knitting group mid-March and was told of a few other friends of theirs love to crochet and or knit.  I am planning on starting a new group at one of the nearby hospitals hopefully by the beginning of April.
I'll keep you posted as to how many new groups not only here in Colorado but also in Texas and other states. If you are interested in starting your own Passing Hats group and keeping the hats local to your region let us know. Email me at Ellen@passinghats.org  We always welcome yarn donations (not wool) or if you're interested in making a financial donation go to Passinghats.org.  You can read how and why we got started on the website along with our "Kids Club" and lots of fun photos.